My current beauty goal is to achieve firmer skin overall….particularly around my eye area and facial contours. So, when Olay approached me to take their 28-Day Challenge, I was eager to get the full scoop.
What do we want? Healthy, glowing skin. When do we want it? Yesterday!
*le sigh*
Trust me: Been there. Desired that.
Let's not forget my hyperigmentation blog post/ journey that started it all. My quest for clear, radiant skin took years. YEARS! Because let's be honest — there's no such thing as an overnight success. Your skincare goals take a consistent, focused, and ongoing effort. And the path to healthy skin isn't always a straight line, because with age, seasonal changes and hormonal changes, your skin is always, well — changing.
Which brings me to my skin's current season…..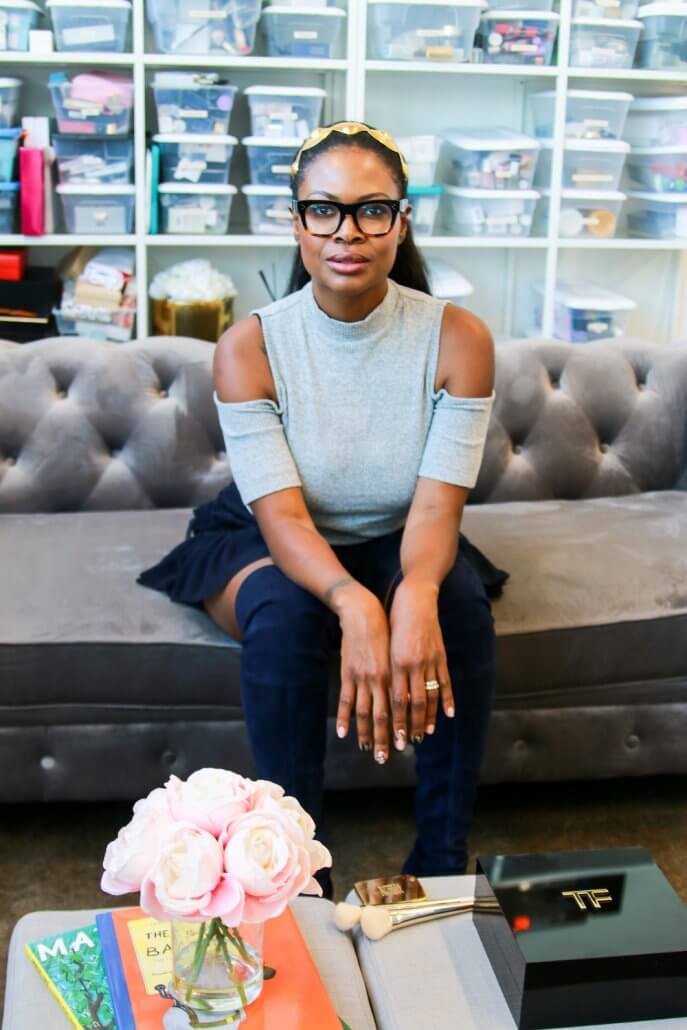 Lately I've been noticing that my skin isn't as firm as it used to be. I'll be 43 in January, and up until this point, my biggest concern (once I got out of the adult acne phase) was maintaining a smooth, bright complexion. But as skin matures, it naturally loses firmness…so here we are.
My current beauty goal is to achieve firmer skin overall….particularly around my eye area and facial contours. So, when Olay approached me to take their 28-Day Challenge, I was eager to get the full scoop.
Well, the ask was "simple" — Use Olay Regenerist Micro Sculpting Cream & Olay Eyes Ultimate Eye Cream, *welp*, EXCLUSIVELY for 28 days. Yes, you read that right…forsake all other creams, lotions and potions for 28 whole days. *nervous stare*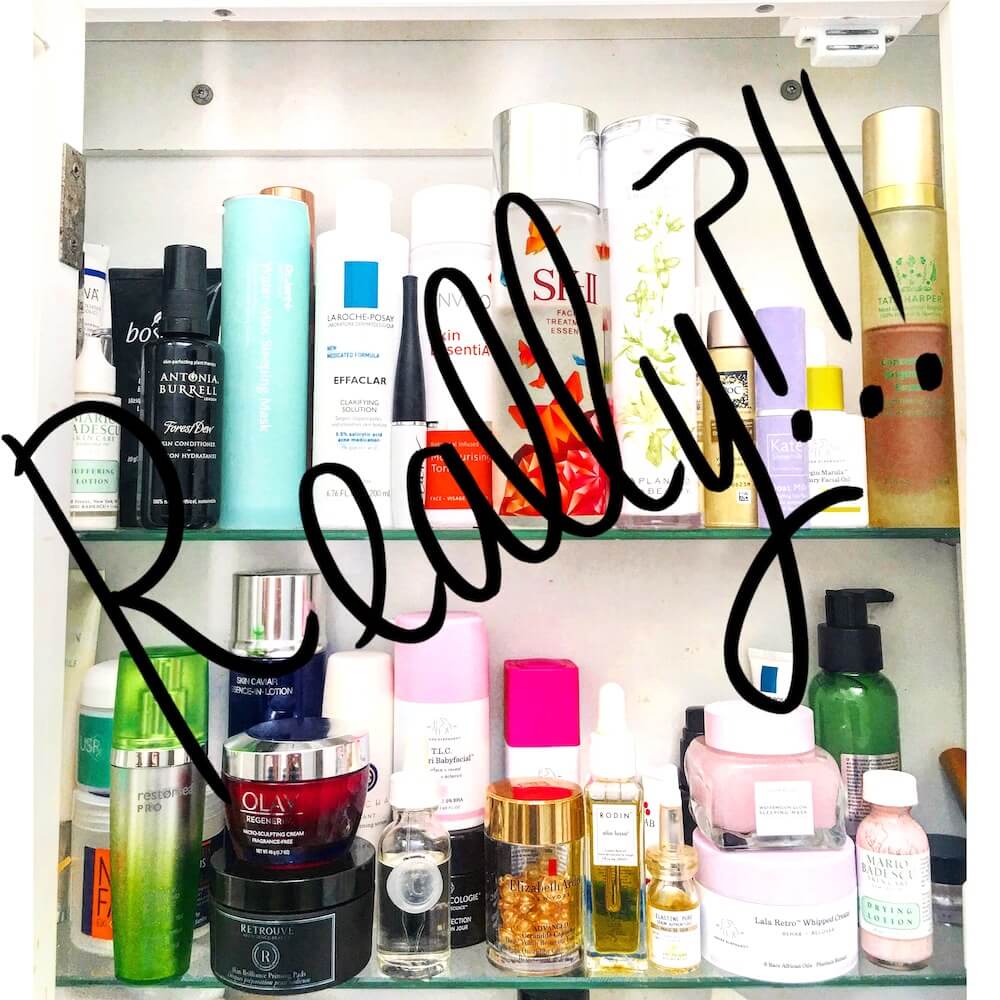 GIVE UP ALL OF THIS
Initially, I was a little apprehensive because I love my vast assortment of beauty products and I enjoy the art of mixing, matching and DIY-ing my way through my daily skincare routine. But, I decided to give the challenge a try because I know that Olay makes great products and I was very interested in critiquing the kind of results I would see with such a focused regimen.
Also, as a beauty blogger, I get to try tons of new products of a regular basis…and again, I do enjoy that aspect of my work. But I know that most women outside of the beauty industry (like my friends, family members, readers, etc.) really do prefer a morning and evening routine that is simple, focused, affordable, fool-proof and effective. So, it made perfect sense that I would "take one for the team" and do the 28-Day Challenge.
GAME ON, OLAY 28 DAY CHALLENGE!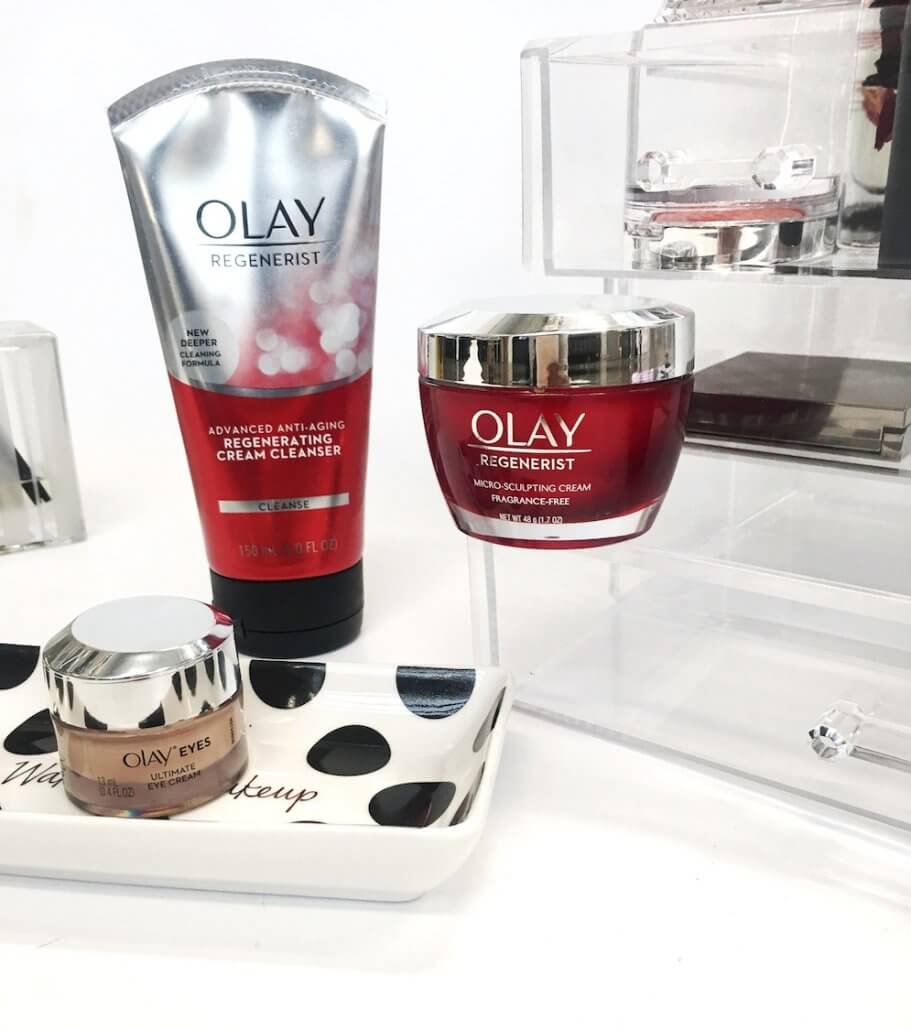 Started from the bottom….
[NOTE: I shot my Day 1 photo and the BEFORE/AFTER photo using my iPhone because I wanted to be super transparent about my skin/ results. There's no trick photography, photo editing, or sexy lighting going on here.]

Here's my Day 1 selfie in my office. It perfectly captures my areas for improvement. I've marked up the photo to highlight 1) texture on my cheeks. This area used to be super smooth, but lately, well, see for yourself.  And 2) there's a clear loss of plumpness and firmness around my eye area. Momma looks tired. SO tired (even my lash extensions aren't helping the situation)!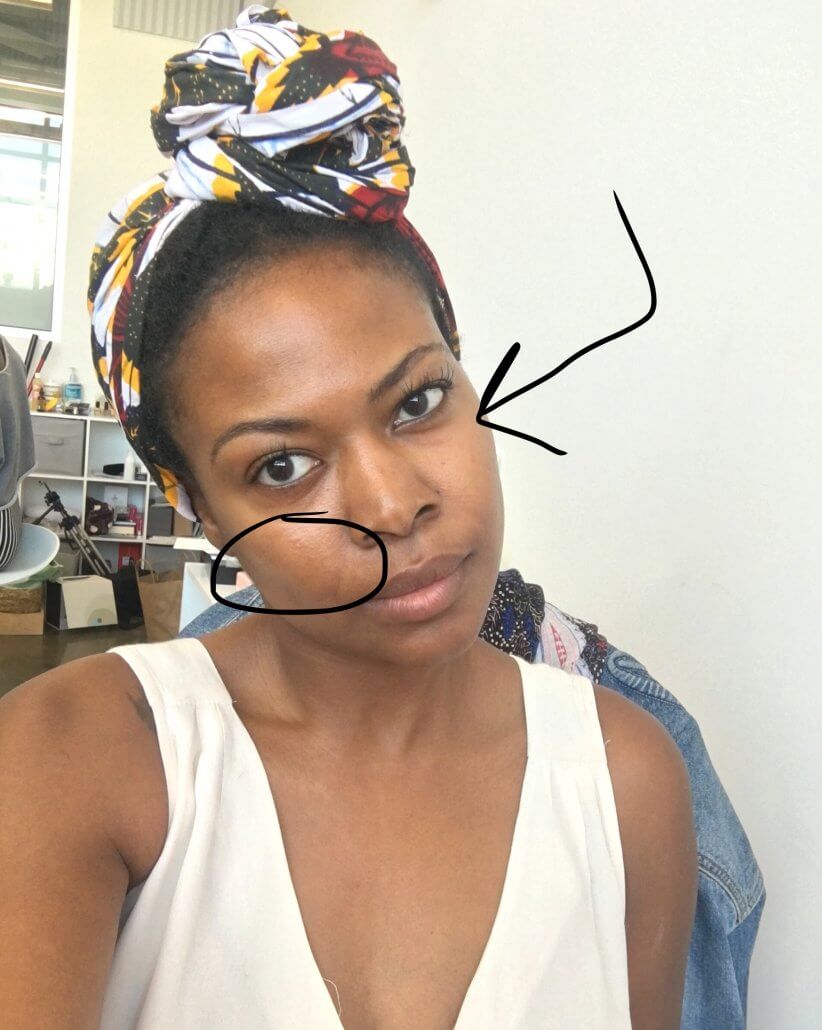 Now…as I had previously stated, there's no such thing as an overnight success when it comes to skin care, but, within about 8 days of twice daily Olay usage, I began to notice visible improvements:
BY DAY 8

Increased hydration: My face felt more nourished and comfortable. I never felt tight, which was my main concern in using a product formulated to "firm" the skin. Olay Regenerist Micro Sculpting Cream kept my skin soft and supple all day long. The texture is lightweight and melts into skin, without feeling tacky or weighed down. My complexion is dark and the cream absorbs and blends without a trace. I should also mention that Olay Eyes Ultimate Eye Cream also blends like a dream…which I wasn't expecting given the beige tone of the product (see image below).
Holy glowy: My skin beamed immediately after applying the products and the healthy glow was maintained throughout the day. (I shared this video update on Instagram)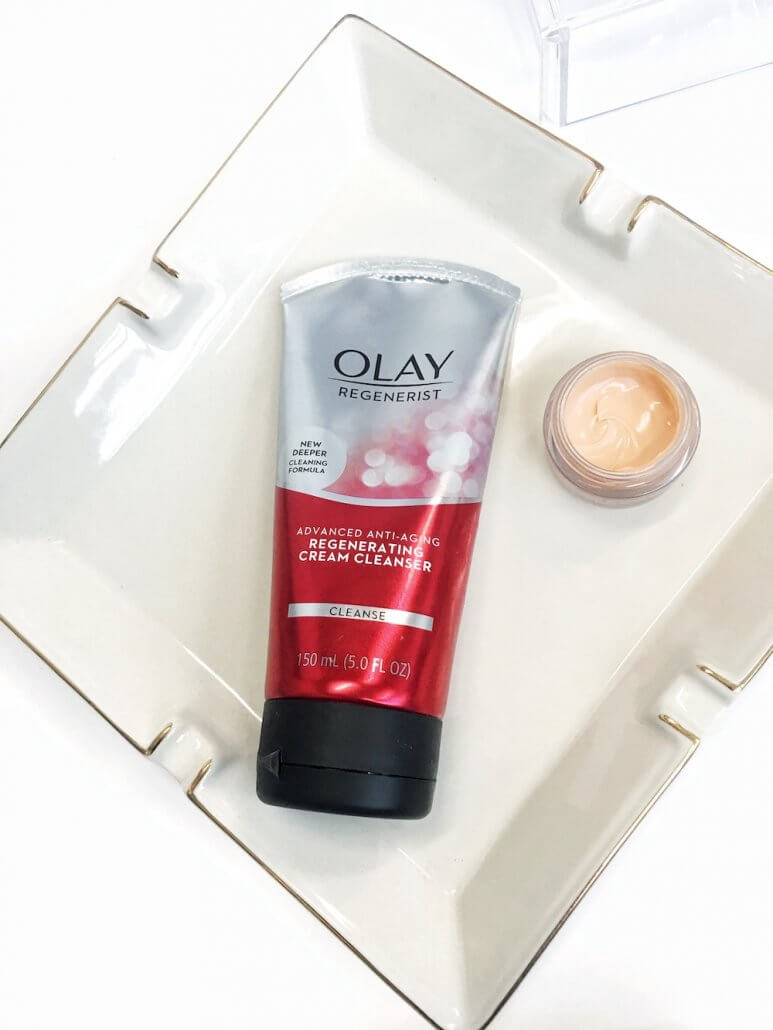 BY DAY 14
More bounce: My facial contours appeared more lifted and my skin felt plump. For me, this means more youthful looking skin. Owww! *does a mean two-step*
Softening of texture: The roughness on my cheeks became less visible. There's still some texture there, but I find myself zooming in really close to see it. It's definitely not as noticeable was it was 14 days ago.

BY DAY 28 [left is BEFORE, right is AFTER]:
Overall, my skin looks wayyy more alive. The picture on the right is so bright and vibrant. If I had to choose one word to describe the condition of my skin, I would say "refreshed". Look at all the GLOW on my cheeks and on my forehead. If you look closely, you will notice that the texture improved on my forehead as well as my cheeks. I was only looking for an improvement on my cheeks. I didn't even realize I had texture on my forehead…but in comparing the two photos side by side, I TOTALLY see where there WAS texture on my forehead that's now gone. My forehead looks so plump and shiny. Over the course of my Olay 28-day challenge, I shared a lot of my daily usage on Instagram. I once used the tomato emoji because it perfectly illustrates the current condition of my skin — glossy and firm.
After 28 days with Olay, my mind is blown and my skin is poppin'! The nearly month long experiment greatly exceeded my expectations. With any good moisturizer, I feel added hydration is a given, but Olay scored high marks, for me, in the areas of smoothing, lifting, firming and brightening the skin…and, it did it in only 28 days! As a professional beauty blogger with 10 years of experience in evaluating skin care products, I can tell you this — most skin care products do not work this fast. Typically, you'd need to invest about 4-8 weeks to see a measurable result.
Well, if you want to put Olay to the test and embark on your own 28-day skin care journey, start at Olay.com and personalize your skincare regimen using Olay Skin Advisor. It's an online skin diagnosis tool that uses a selfie and a few targeted questions to recommend the Olay regimen that's perfect for you. And if you visit Olay Skin Advisor and use my special code below (first 28 people only) you'll get $40 off your purchase of recommended products.
Discount Code:
28DAYS9938 ….open to the first 28 people to use the code, so don't delay!
That's it.
Just think: What can your skin achieve in 28 days?
*This post is sponsored by Olay. Opinions are all my own. I thank you for supporting the brands that help make ThisThatBeauty possible.